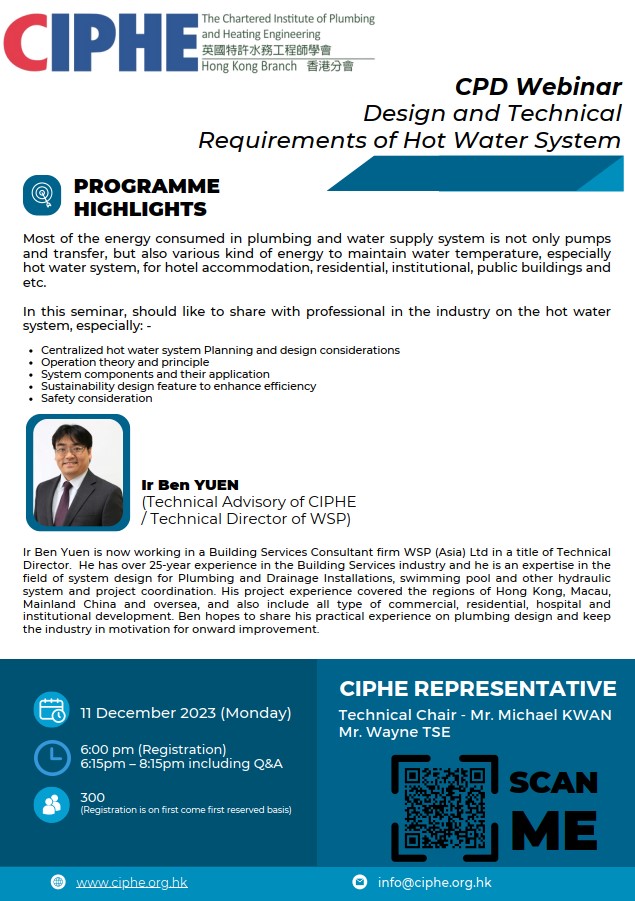 6:15am - 8:15pm (Registration start at 6:00pm)
Programme Highlights:
Most of the energy consumed in plumbing and water supply system is not only pumps and transfer, but also various kind of energy to maintain water temperature, especially hot water system, for hotel accommodation, residential, institutional, public buildings and etc.
In this seminar, should like to share with professional in the industry on the hot water system, especially:
Centralized hot water system Planning and design considerations
Operation theory and principle
System components and their application
Sustainability design feature to enhance efficiency
Safety consideration
Speaker:
Ir Ben YUEN (Technical Advisory of CIPHE / Technical Director of WSP)
Ir Ben Yuen is now working in a Building Services Consultant firm WSP (Asia) Ltd in a title of Technical Director. He has over 25-year experience in the Building Services industry and he is an expertise in the field of system design for Plumbing and Drainage Installations, swimming pool and other hydraulic system and project coordination. His project experience covered the regions of Hong Kong, Macau, Mainland China and oversea, and also include all type of commercial, residential, hospital and institutional development. Ben hopes to share his practical experience on plumbing design and keep the industry in motivation for onward improvement.
No. of Participants:
300 (Registration is on first come first reserved basis)
Language :
Cantonese with English Terminology
Fee:
Free (Member of CIPHE, without CPD certificate); or
HK$50 (Non-Member of CIPHE, without CPD certificate); or
HK$100 (Member/ Non-Member of CIPHE, with CPD certificate); or
HK$150 (Apply for credits of the Voluntary Continuing Professional Development (CPD) Scheme for LP under Water Supplies Department)
Download Here