Event Summary:
Changing construction methods, processes and expectations are transforming the construction industry throughout the Asia Pacific Region. Many of these changes are positive and present a wide range of new opportunities for construction professionals to start building a better world for future generations. However, these changes won't be easy, and the key to implementing successful changes is knowledge.
Which is why the Chartered Association of Building Engineers (CABE) Hong Kong Chapter have launched the first ever Asia Pacific Conference – Constructing our Future – taking place in February 2023. This will be a hybrid event held in person at the New Millennium Hotel, Hong Kong and online.
A line-up of expert speakers will come together to explore pivotal areas of the industry that are full of possibilities with exciting new prospects in place, including Architecture & Design, Construction & Housing, Engineering, and Sustainability. They will collaborate to investigate the challenges currently faced by the industry and explore opportunities for the future of the sector.
Speakers:
Ar. Donald Choi Wun Hing, JP – Executive Director and CEO, Chinachem Group
Ir Professor Thomas Kwok-Cheung Chan – Executive Director, WSP (Asia) Limited
Mr. Victor Sheung Shing Tai, JP – Under Secretary for Housing, HKSAR
Dr Raymond Yau – General Manager, Technical Services & Sustainable Development at Swire Properties Limited
Ms. YU Po Mei, Clarice, JP – Director of Buildings, Buildings Department, HKSAR
Conference tickets are on sale now at
cbuilde.com/asia2023
where more information on the conference can be found.
How to Book:
To book your virtual, or in person, ticket visit
https://www.eventbrite.hk/e/constructing-our-future-cabe-asia-pacific-conference-in-hk-tickets-423086622477
If you are a
CABE Student Member
, you can book a
FREE virtual
ticket by emailing
hongkong@cbuilde.com
with your full name, university/academic institution, and membership number.
CABE Student Members are welcome to book an in-person ticket with prices starting from HK$480.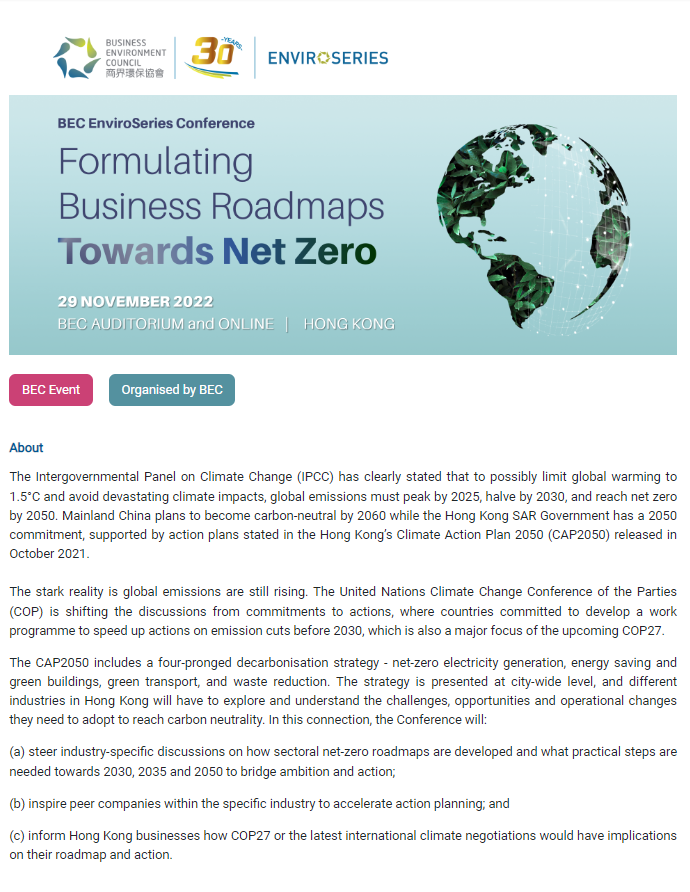 9:25am - 5:05pm including Q&A (Conference Registration at 8:55am - 9:25am)
Programme Highlights:
The Intergovernmental Panel on Climate Change (IPCC)
has clearly stated that to possibly limit global warming to
1.5°C
and avoid devastating climate impacts, global emissions must peak
by 2025
, halve by 2030, and reach net zero by 2050. Mainland China plans to become carbon-neutral by 2060 while the Hong Kong SAR Government has a 2050 commitment, supported by action plans stated in the Hong Kong's Climate Action Plan 2050 (CAP2050) released in October 2021.
The stark reality is global emissions are still rising. The United Nations Climate Change Conference of the Parties (COP) is shifting the discussions from commitments to actions, where countries committed to develop a work programme
to speed up actions on emission cuts before 2030
, which is also a major focus of the upcoming COP27.
The CAP2050 includes a four-pronged decarbonisation strategy -
net-zero electricity generation, energy saving and green buildings, green transport, and waste reduction
. The strategy is presented at city-wide level, and different industries in Hong Kong will have to explore and understand the challenges, opportunities and operational changes they need to adopt to reach carbon neutrality.
In this connection, the Conference will
(a) steer industry-specific discussions
on how sectoral net-zero roadmaps are developed and what practical steps are needed towards 2030, 2035 and 2050 to bridge ambition and action,
(b) inspire peer companies
within the specific industry to
accelerate action planning
, and
(c) inform Hong Kong businesses
how COP27 or the latest international climate negotiations would have
implications to their roadmap and action
.
Visit Here for More Detail
Download Here