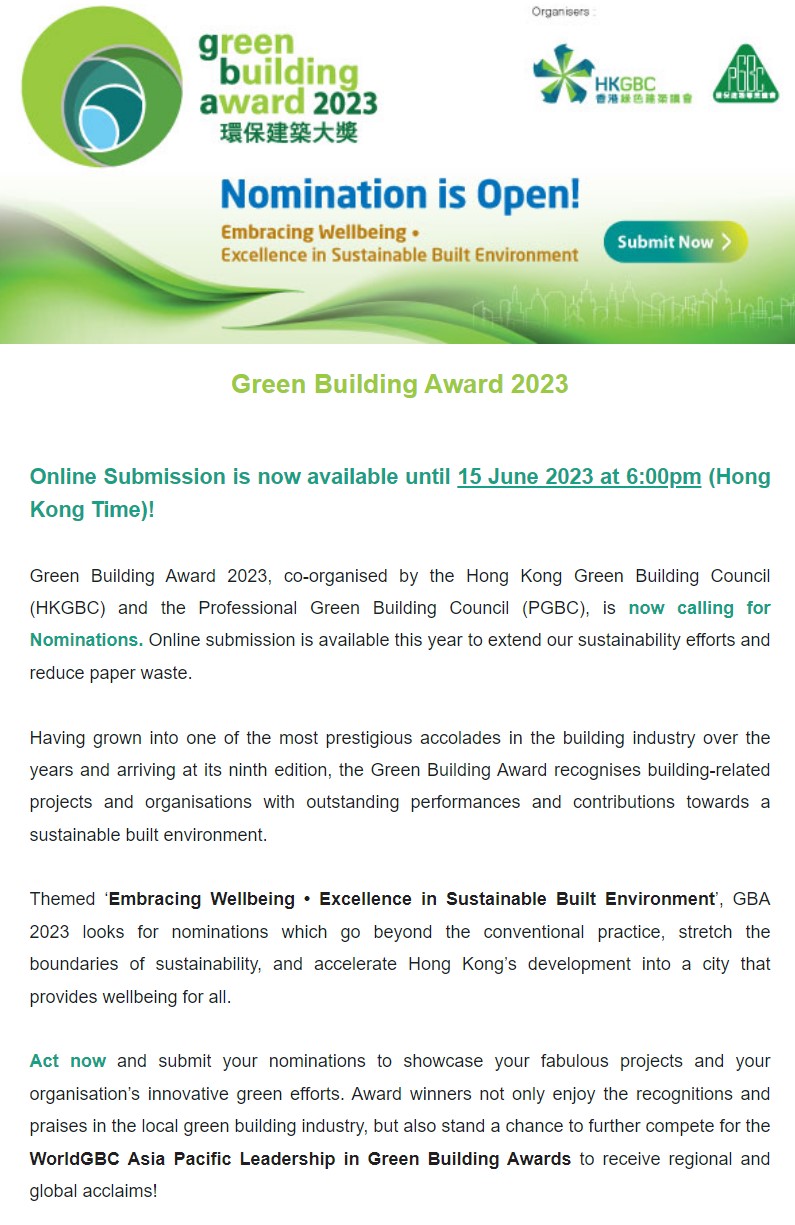 Highlights:
Green Building Award 2023, co-organised by the Hong Kong Green Building Council (HKGBC) and the Professional Green Building Council (PGBC), is now calling for Nominations. Online submission is available this year to extend our sustainability efforts and reduce paper waste.
Having grown into one of the most prestigious accolades in the building industry over the years and arriving at its ninth edition, the Green Building Award recognises building-related projects and organisations with outstanding performances and contributions towards a sustainable built environment.
Themed 'Embracing Wellbeing • Excellence in Sustainable Built Environment', GBA 2023 looks for nominations which go beyond the conventional practice, stretch the boundaries of sustainability, and accelerate Hong Kong's development into a city that provides wellbeing for all.
Deadline:
15 June 2023 6:00 p.m. (Thursday)
Main Category
Sub-Category
New Buildings (NB)

Completed Projects
(Obtained Occupation Permit or equivalent after 1 January 2020 and up till 14 June 2023)

Residential
Commercial
Institutional

Projects Under Construction and/or Design


Residential
Commercial
Institutional

Existing Buildings (EB)

Completed Projects
(Projects completed from 1 January 2019 to 14 June 2023)
(Revitalisation, Renovation, Rehabilitation & Responsiveness)

Residential
Commercial
Institutional

Projects under Planning/ Design
(Revitalisation, Renovation, Rehabilitation & Responsiveness)

Residential
Commercial
Institutional

Facilities Management
(Carbon/ Energy Management, Engagement with Stakeholders)
Interiors (For completed projects only)

Research & Planning (RP)

Research
(For research projects completed with substantial findings/ results)
Planning

Building Products & Technologies (BPT)
N/A
Green Building Leadership (GBL)

Developers
Contractors
Consultants
Facilities Management
Green Products & Technology Business
Government, Institutions & NGOs
Join Here